Just Sit. We'll
take it from here.
With technology that passively captures health data when nature calls.
Passive
The Heart Seat's simple technology is self-powered, easily accessible and requires no digital literacy for users, making future patient use effortless.
View Attribute
Accurate
While collecting consistent and reliable data, the Heart Seat will help providers to respond to health changes in near real time.
View Attribute
Scalable
The Heart Seat will help clinicians manage a large number of patients through one simple platform, saving valuable time for care teams.
View Attribute
Reunite with peace of mind.
Moving the center of care closer to home.
Casana is innovating healthcare delivery with a smart toilet seat that enables effortless, integrated, and accurate in-home health monitoring. The FDA cleared Heart Seat® captures heart rate and blood oxygenation. Future clinical measurements under development, such as non-invasive blood pressure, will assist medical teams with monitoring chronic conditions beyond the four walls of the physician's office.
Through an effortless form factor, the Heart Seat uses proprietary algorithms to detect changes in heart rate and blood oxygenation to help care teams monitor your health trends.
Casana's mission is to improve health and wellness through in-home health monitoring. We hope to empower the world's healthcare community with access to reliable clinical metrics to improve and extend the lives of those we love.
Key Features
FDA Cleared
Heart Rate
Individual beats are identified from the electrocardiogram (ECG) waveform and used to calculate heart rate. Through moment-by-moment signal quality assessment and artifact elimination, heart rate results are calculated even when the user is in motion or other artifacts are present.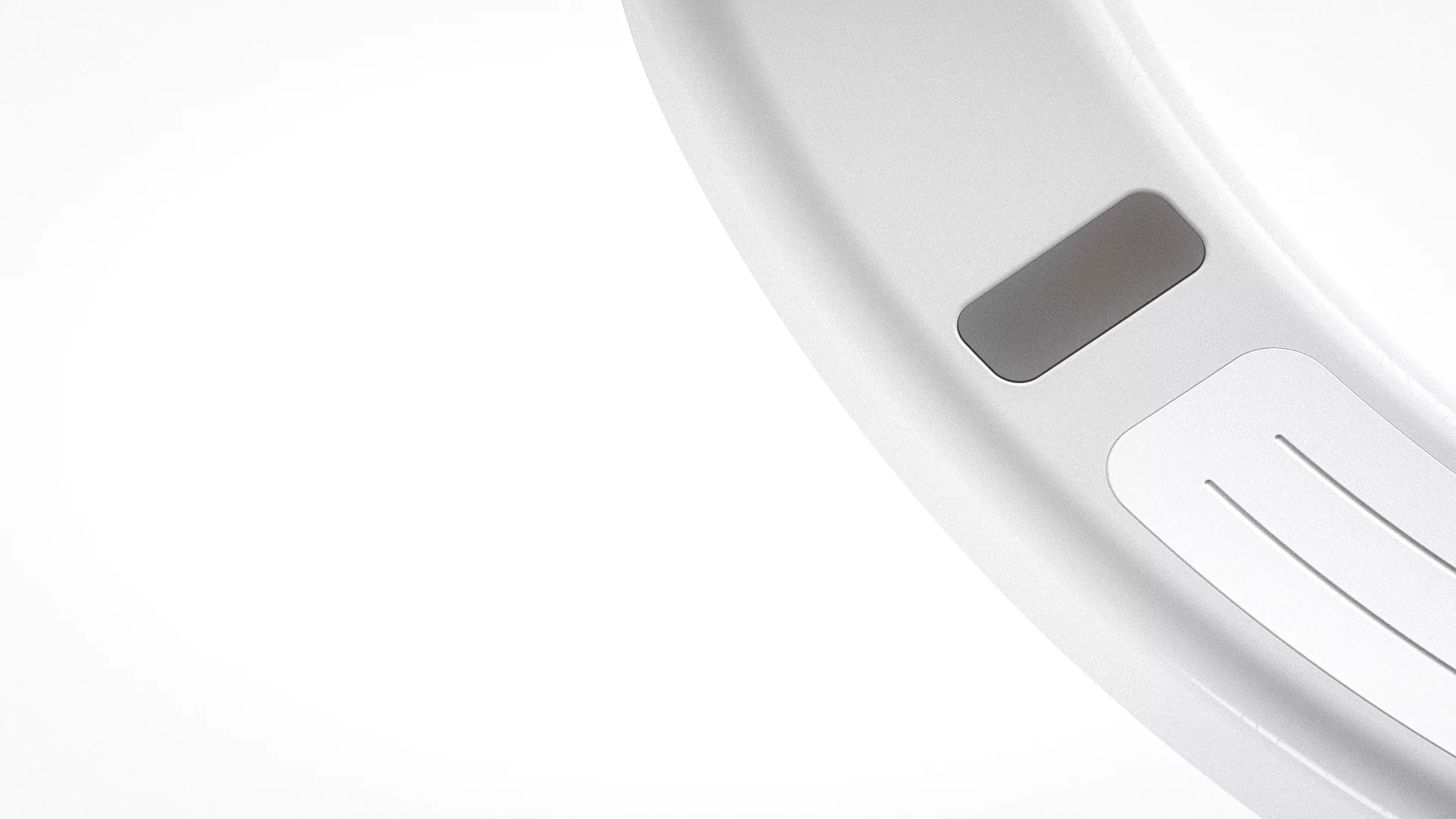 FDA Cleared
Blood Oxygenation:
The Heart Seat employs the same principles as a standard pulse oximeter to calculate SpO2. Two photoplethysmogram (PPG) waveforms, captured at red and infrared wavelengths, are used to calculate an R-value on a per-beat basis. The R-values from parts of the signal that pass signal quality assessment are used to directly calculate SpO2.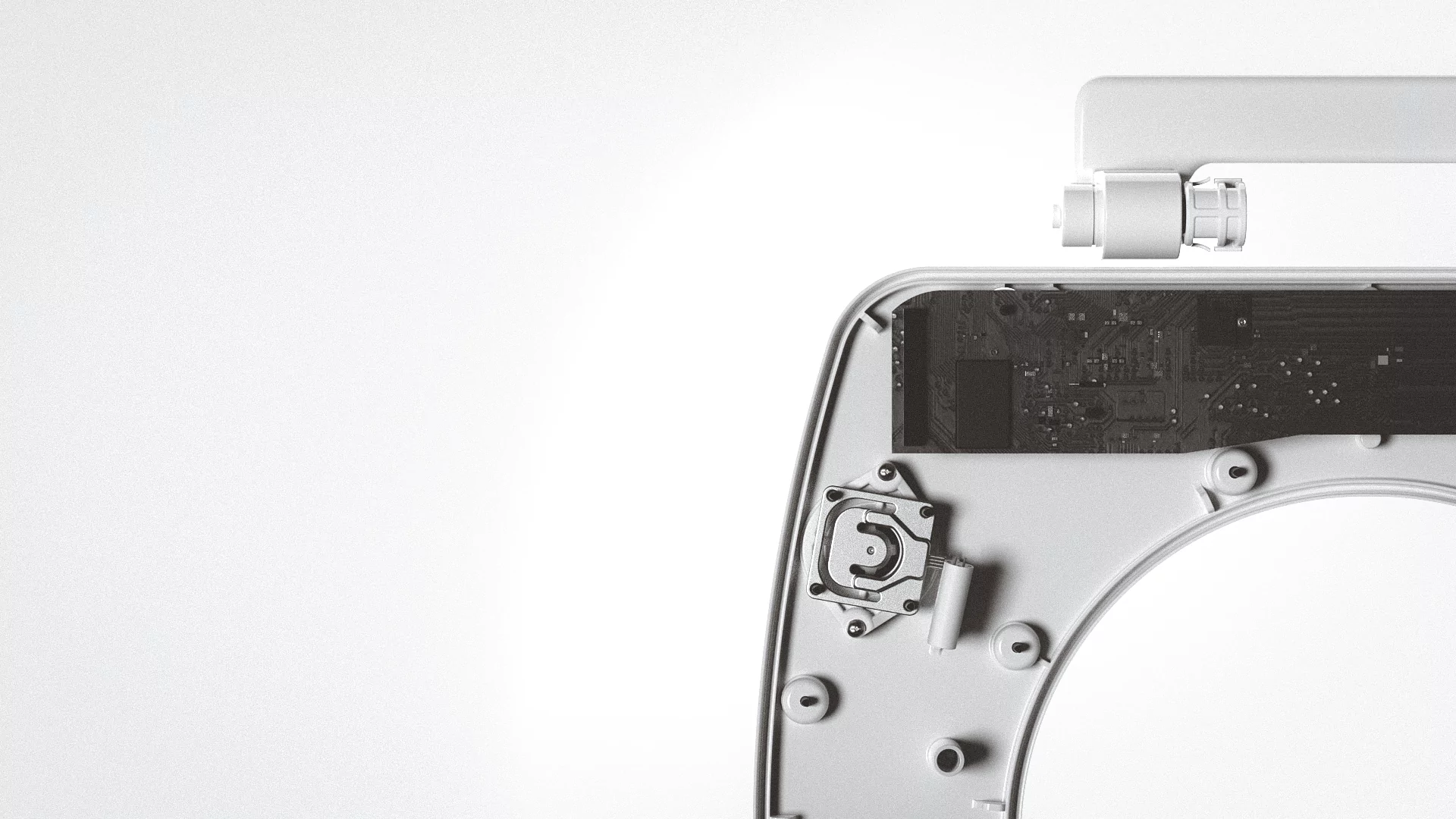 Secure Connection
The Heart Seat uses state of the art authentication to ensure devices only transmit data via WiFi to the Casana Cloud and allow connections to authenticated Casana devices. Upon collection, data is encrypted in both storage and transmission to a clinician interface in real time, providing trending insights to care teams.
Internal Battery
The Heart Seat is battery-powered, requiring no charging or plug in. Competing solutions typically involve charging every few days, reducing the likelihood of consistent data collection and accurate clinical metric measurement.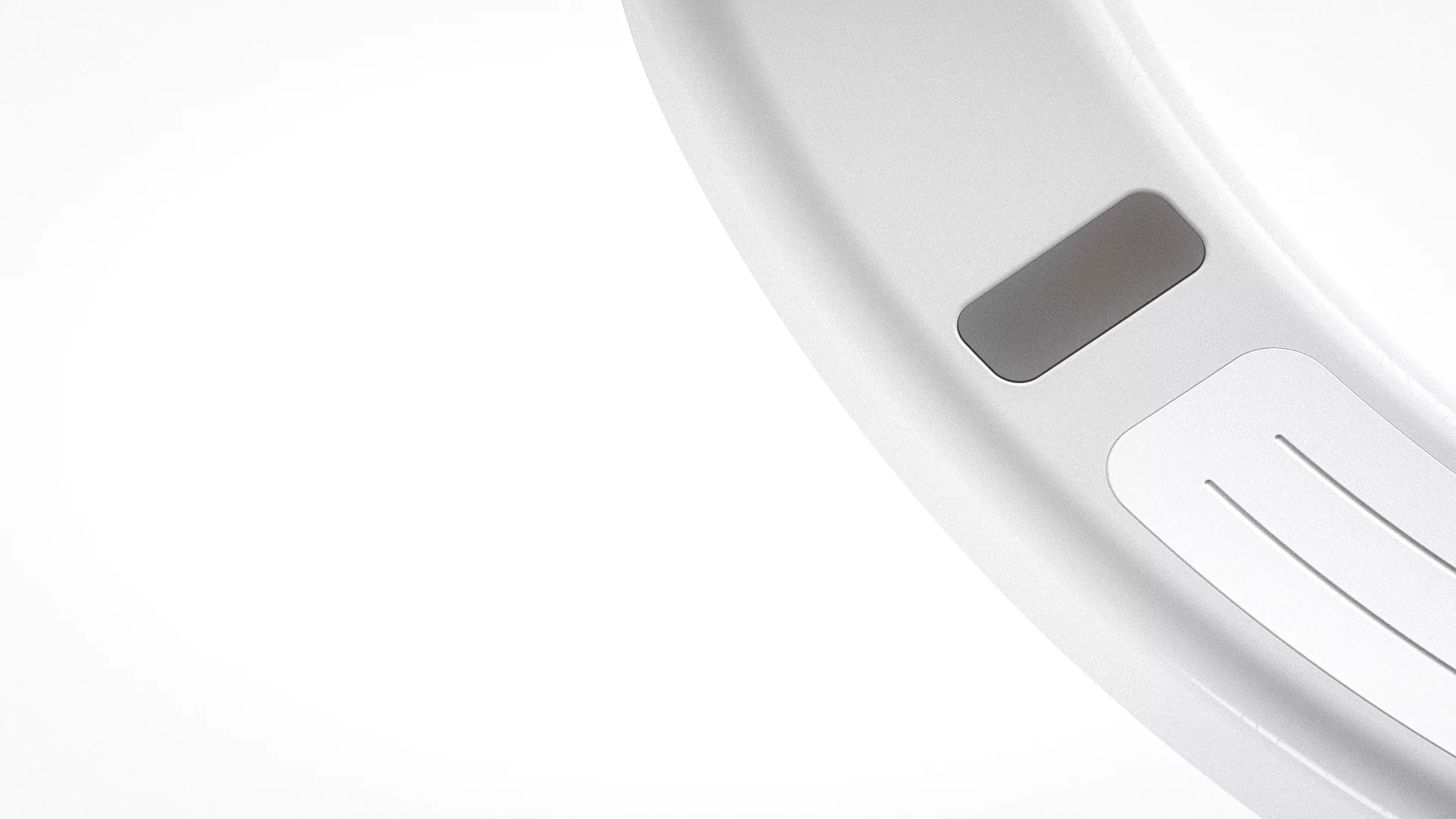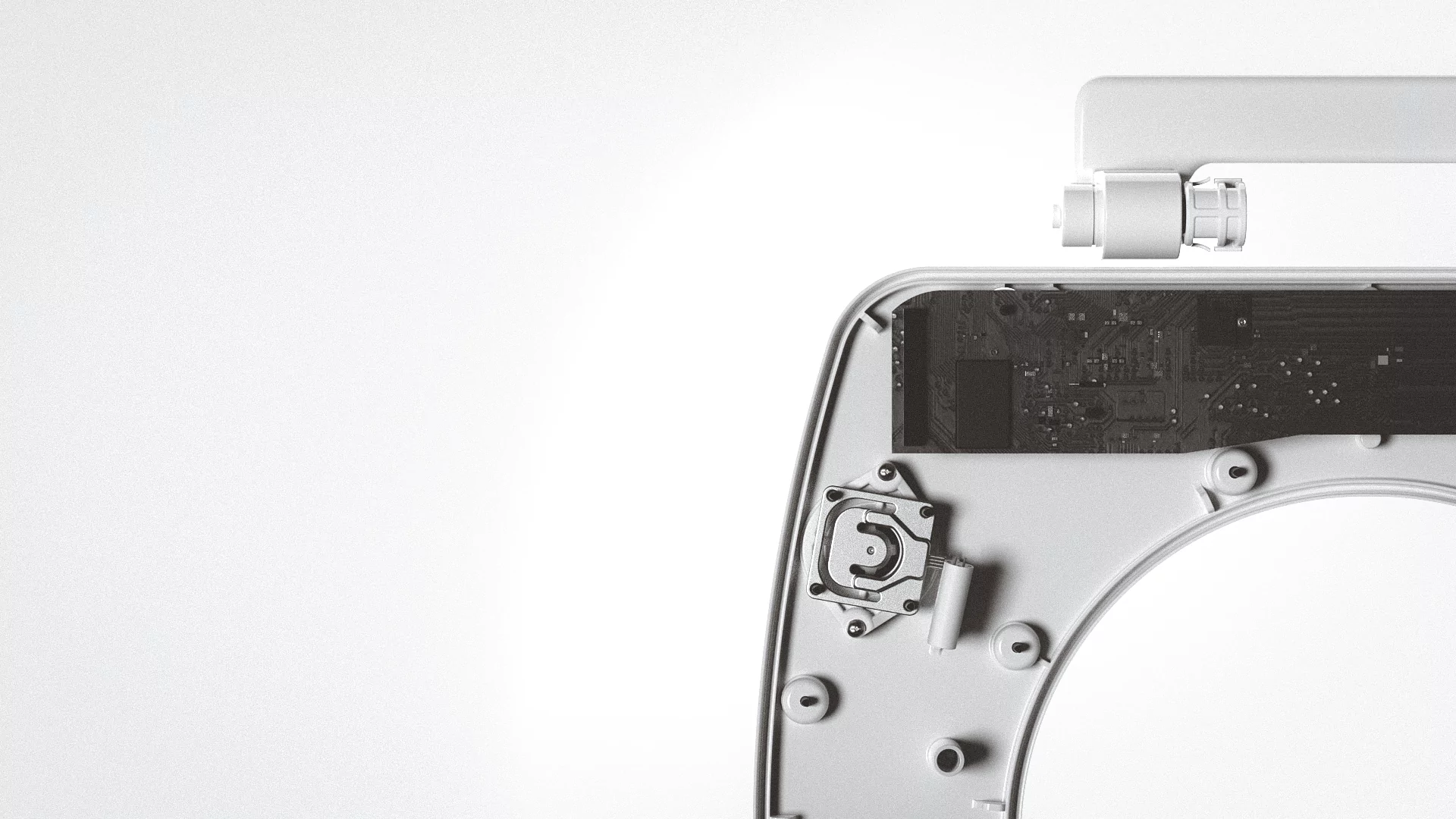 Better Data for Clinicians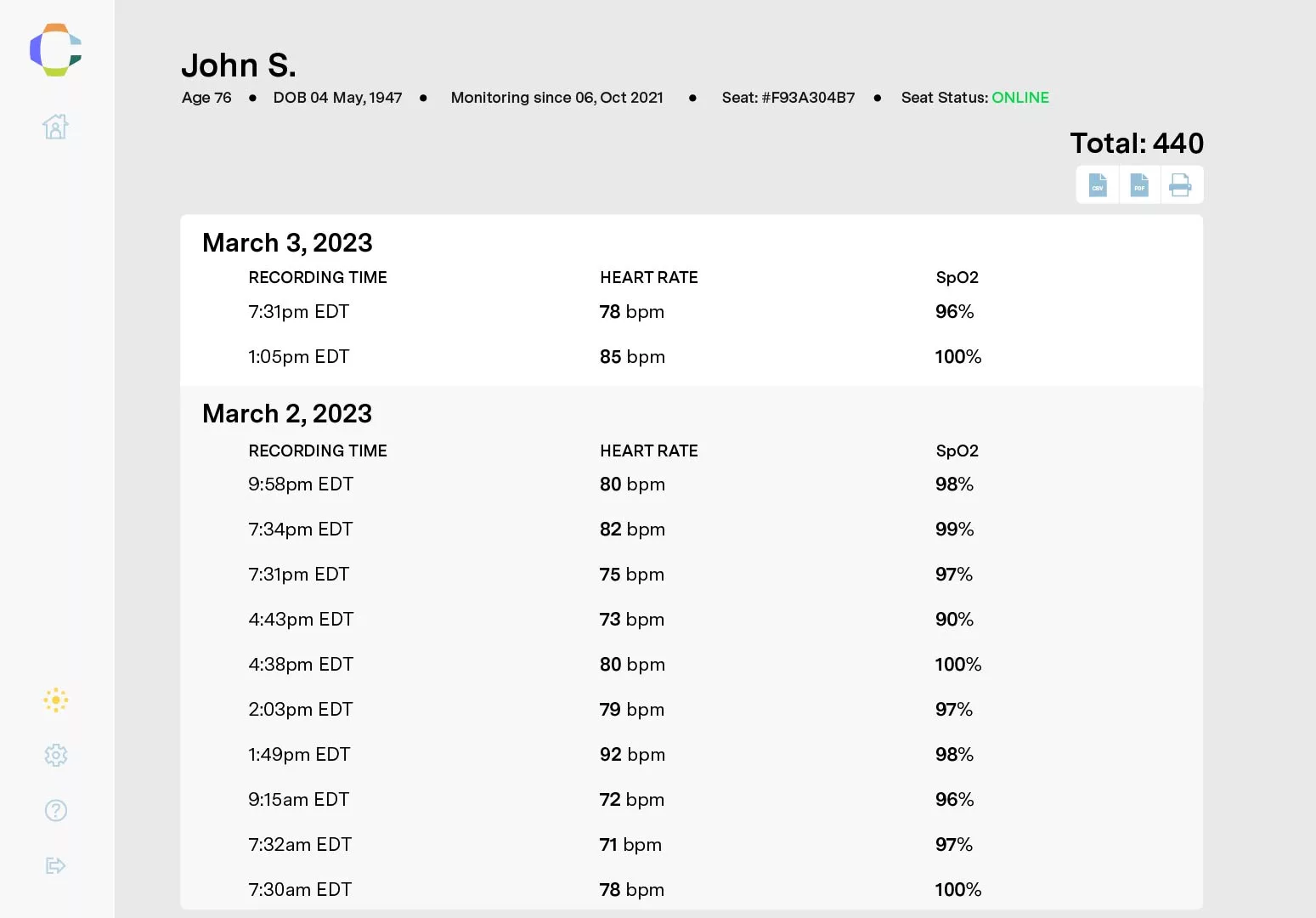 Better Data for Clinicians
Collection
By simply sitting, the Heart Seat securely records and uploads data to the Cloud via WiFi requiring no additional effort from the patient.
Analysis
Clinical algorithms calculate measurements, and a bio-identification algorithm distinguishes individual users, only displaying health data of a prescribed user to the appropriate provider or team.
Data Flow
Measurements are available in near real time through simple data visualization for providers and care teams, saving valuable time for all those involved.
Condition Management
The Heart Seat will enable patients and providers to more easily manage chronic conditions outside of clinical settings.
Don't Miss a Beat
Subscribe for updates and be the first to know when the Heart Seat is available on the market.
Community Advocates
Here is a quote from Naomi Hartman, FNP-BC:
"The Heart Seat is quite possibly the easiest way to gather heart health data I've ever seen."
Here is a quote from Jeffrey Leiden, M.D., Ph.D.:
"As medical care moves quickly from the doctor's office into the home, it's essential we develop accurate and convenient new tools for home health monitoring. The Heart Seat will be a home monitoring device that provides accurate and convenient intelligence for multiple critical health parameters."
Here is a quote from Nancy Carlson Weik, BSN, RN:
"Reliable technology that enables proactive care without requiring user compliance is essential in the management of hypertension. Once installed and connectivity established, the patient would literally continue their business as usual while the Heart Seat collects and transmits data to be utilized by physicians and health care professionals."
Here is a quote from Dr. Gregory Hirsch, M.D.:
"The ability to monitor patients as part of their existing daily routine, and potentially detect changes earlier in a disease process where intervention can have a larger impact on preserving health, will be a groundbreaking innovation in healthcare in comparison to the current office visit monitoring system."
Here is a quote from Christian Mende, M.D.:
"The Heart seat will collect important medical information in a home setting. This could lead to better medical care because recorded data will allow health care professionals to recognize a change in condition and adjust medications, and be reassuring to the patient."
Our Valued Research Partners


Partner with us for research